Significance and Uses of Monkey Orchid Flowers
Monkey Orchid (Scientific Name: Dracula simia) is a fascinating and captivating flower that captivates the hearts of nature enthusiasts and plant lovers alike. Its name might conjure images of monkeys swinging from trees, but in reality, these unique flowers resemble the adorable faces of monkeys, complete with a long nose-like structure and wide, staring eyes. Native to the cloud forests of South America, these orchids are truly a wonder of the natural world.
The Monkey Orchid's distinctive appearance has earned it several charming nicknames, such as Monkey Face Orchid, Monkey-Like Dracula, and Monkey Monkey. When in full bloom, its vibrant colors and uncanny resemblance to a primate's face create an amusing and delightful sight for anyone lucky enough to encounter it.
These extraordinary orchids thrive in the cool and moist environments of the Andean cloud forests, which are often shrouded in mist and fog. This habitat provides the perfect conditions for their growth and development. The Monkey Orchid's natural habitat is found at high elevations, usually between 1,000 to 2,000 meters above sea level. The combination of moderate temperatures and abundant moisture enables these delicate flowers to flourish.
Monkey Orchids are epiphytes, which means they do not draw nutrients from the ground. Instead, they cling to trees and rocks, using their roots to anchor themselves in place. These roots serve mainly as a means of support, as the majority of their nourishment comes from the humid air and surrounding environment. As such, they play an essential role in the ecosystem by creating microhabitats that provide refuge and sustenance for various insects and animals.
In terms of their care, Monkey Orchids can be challenging to cultivate outside of their natural habitat. The specific environmental conditions they require, such as consistent humidity, diffused light, and cool temperatures, make them rather finicky and not ideal for novice gardeners. However, in recent years, botanical gardens and orchid enthusiasts have made strides in successfully propagating and caring for these remarkable flowers, allowing more people to appreciate their beauty.
Conservation efforts are also underway to protect the natural habitats of Monkey Orchids, as deforestation and climate change pose significant threats to their survival. By raising awareness about these unique orchids and supporting conservation initiatives, we can contribute to preserving the delicate balance of nature and safeguarding this extraordinary species for generations to come.
In addition, Monkey Orchids are truly a marvel of nature, with their monkey-like faces and exotic charm. Found in the misty cloud forests of South America, these epiphytic beauties have captured the imaginations of many. Although challenging to cultivate, their allure and the conservation efforts surrounding them remind us of the importance of protecting and appreciating the diversity of the natural world. So, if you ever get the chance to encounter a Monkey Orchid in its natural habitat or in a botanical garden, take a moment to admire and cherish this enchanting floral wonder.
Read Also: Significance and Uses of Hanging Flowers
Uses of Monkey Orchid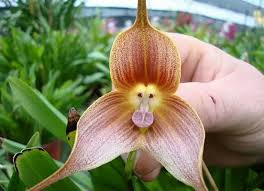 While Monkey Orchids (Dracula simia) may not have direct practical uses like some other plants, they hold significant value in various aspects:
1. Ornamental Purposes: Monkey Orchids are primarily grown and appreciated for their aesthetic appeal. They make unique and eye-catching additions to botanical gardens, orchid collections, and floral displays. Their distinct appearance sparks curiosity and admiration among plant enthusiasts, making them a popular choice for ornamental purposes.
2. Ecological Importance: In their natural habitat, Monkey Orchids play a role in supporting local ecosystems. As epiphytes, they create microenvironments that provide shelter and food for insects, small animals, and other plants. Preserving these orchids and their habitats helps maintain biodiversity and ecological balance.
3. Conservation and Education: The presence of rare and unique plants like Monkey Orchids often draws attention to the importance of conservation efforts. By highlighting the plight of endangered species and their fragile habitats, these orchids become ambassadors for broader conservation initiatives, inspiring people to protect biodiversity.
4. Research and Botanical Studies: Monkey Orchids, like many other plant species, are subjects of scientific research and botanical studies. Understanding their growth habits, adaptation mechanisms, and genetics can provide valuable insights into plant evolution and aid conservation strategies.
5. Cultural and Artistic Inspiration: Nature has always been a source of inspiration for artists, and the unusual appearance of Monkey Orchids is no exception. These captivating flowers have inspired various forms of art, from paintings and sculptures to literature and poetry, showcasing the beauty of the natural world.
6. Traditional and Folklore Medicinal Uses: While Monkey Orchids themselves are not known to have medicinal properties, some cultures may have attributed traditional healing properties to orchids or used them symbolically in traditional medicine. However, it's essential to note that consuming or using any plant for medicinal purposes should be done under the guidance of knowledgeable experts, as many plants can be toxic or harmful if misused.
7. Boosting Tourism: In regions where Monkey Orchids grow naturally, these flowers can become tourist attractions. Ecotourism centered around observing and appreciating these unique orchids can promote sustainable economic growth for local communities and foster a sense of responsibility for preserving their natural environment.
However, while Monkey Orchids may not have direct practical uses like food crops or medicinal plants, their ornamental value, ecological importance, and role in raising awareness for conservation make them a special and cherished part of the natural world. By appreciating and safeguarding these fascinating flowers, we can contribute to the preservation of biodiversity and the delicate balance of our ecosystems.
Read Also: Cabbage Rose (Rosa centifolia): All You Need To Know About
Complete Growing and Care Guide of the Monkey Orchid

Growing and caring for Monkey Orchids (Dracula simia) can be a rewarding but challenging endeavor due to their specific environmental requirements. If you are up for the challenge and passionate about these unique flowers, here's a complete guide to help you cultivate and care for Monkey Orchids:
Choosing the Right Location:
Monkey Orchids prefer diffused, indirect light. Avoid exposing them to direct sunlight, as it can scorch their leaves.
Place them in a location with moderate temperatures, ideally between 15°C to 25°C (59°F to 77°F). Avoid extreme temperature fluctuations.

Maintain consistent humidity levels. Monkey Orchids thrive in humid environments, so you may need to use a humidifier or place a tray of water near the plant to increase humidity.
Potting and Growing Medium:
Monkey Orchids are epiphytes, so they do not grow in soil. Instead, use a well-draining potting mix suitable for orchids. Orchid bark mix or sphagnum moss with perlite can be good options.

Choose a small pot or container with good drainage to prevent waterlogged roots.
Watering:
Orchids are susceptible to overwatering, so it's essential to get the watering right.
Water the plant when the growing medium feels dry to the touch, usually every 7-10 days. However, frequency may vary depending on your climate and humidity levels.

Water the plant thoroughly but avoid letting it sit in standing water.
During the winter months, reduce watering frequency, as the plant's growth slows down.
Fertilizing:
Use a balanced, water-soluble orchid fertilizer diluted to half strength. Feed the plant every two weeks during the active growing season (spring and summer).
In the fall and winter, when growth slows down, reduce fertilization to once a month or suspend it altogether.
Humidity:
As mentioned earlier, Monkey Orchids require high humidity levels to thrive.
Regularly mist the leaves with water to maintain humidity around the plant.
Using a humidity tray (a shallow tray filled with water and pebbles) can also help increase humidity.
Air Circulation:
Adequate air circulation is essential for preventing the growth of fungal diseases and promoting healthy growth.
Avoid placing the orchid in areas with stagnant air, and ensure proper ventilation in the growing space.
Pruning:
Remove dead or yellowing leaves to maintain the plant's appearance and health.
Cut back spent flower spikes after they finish blooming.
Repotting:
Repot Monkey Orchids every 1-2 years, preferably after flowering when new growth appears.
Use fresh orchid mix during repotting to provide the plant with fresh nutrients.
Pest and Disease Control:
Keep a watchful eye for common orchid pests such as aphids, mealybugs, and spider mites. Treat infestations promptly to avoid damage to the plant.
Ensure good hygiene and avoid overwatering to prevent fungal diseases.
Winter Care:
During winter, protect the orchid from cold drafts and sudden temperature drops.
Consider using a heating pad or providing supplemental heat if the temperature in your location drops significantly.

Remember, growing Monkey Orchids may require some trial and error, as each plant can have specific needs. Patience, observation, and a genuine love for these unique flowers will go a long way in successfully cultivating and caring for Monkey Orchids. Happy growing!
Read Also: How Waldorf Education Fosters Individual Growth